Content
News from the secretariat
Seminar, conferences, podcast, etc.
News from the Nordic countries
Publications
Reports
Statistics
Contact Secretaries
Denmark: Helena Birk Oxlund
Faroe Islands: Daisy J Iversen
Finland: Emma Villman
Greenland: Sara Kirstine Jakobsen
Iceland: Jónas Orri Jónasson
Norway: Marina Hiller Foshaugen
Sweden: Lisa Flower
If you have any questions or comments about NSfKs activities, please contact the Chair or the secretariat.
---
The contact secretaries are responsible for the national contributions.
To include anything to the Newsletter, please send an email to the contact secretary in your country.
Feel free to spread criminological news to the Nordic countries. You find us on Twitter, Facebook and YouTube.​​
---
1. News from the secretariat
New publisher of NJC
From next year the Nordic Journal of Criminology will be published by Scandinavian University Press (Universitetsforlaget). NJC now becomes more easily available than ever before, as the new publisher provides diamond open access. Instructions for authors can be found on the new website of the journal.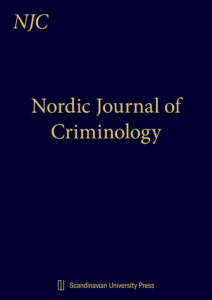 23 applications for research grants received
December 7th was the deadline for the 2023 call for research funding. The applications involve criminological research environments from all the Nordic countries, and a blend of traditional and new criminological topics. The Council will meet in March 2023 to decide who will be awarded research grants for 2023.
NSfK funded PhD Seminar in Sweden
Nordic PhD students in Criminology have met in Lund for two days of networking and knowledge exchange. The participating PhD students gave a presentation of their dissertation projects and engaged in fruitful discussions about the current state and the future of Nordic criminology.
New blog posts
Ongoing studies on victim- offender mediation in Finland: An overview
Ambiguities of algorithmic governance: social harm perspective
---
2. Seminar, conferences, podcast, etc.
Generalforsamling og gå-hjem-møde om Den kriminelle gadekultur i udsatte boligområde
Afholdes ved Djøf i Gothersgade 133, 1123 København K, torsdag den 23. februar kl. 16.00-19.00.
Seminar om vold mod kvinder
25 nov. er International dag for afskaffelse af vold mod kvinder. Kvindehuset, Amnesty International, kvindeforeningen og "sig fra" projektet er gået sammen om seminaret, med bl.a oplæg fra politiets hovedanklager, Katrin Thorsvig Hansen.
Stockholm Criminology Symposium – Call for presentations now open!
The symposium will take place on June 12–14 2023. Following the research interest of the prize winner, the main symposium theme will be 'Principled and equitable law enforcement'. As usual, there is also a general theme, 'Contemporary criminology', which covers a broad range of subjects in the area of criminology. All abstracts must be submitted by February 28, 2023. Please note that there is a discount for students to participate at the Symposium. More info here.
Disputation: "Under the influence"
Fredagen 13 januari 2023 försvarar Lauren Bishop sin avhandling "Under the influence: Substance misuse from the perspective of linked lives". Stockholms universitet. Plats: Hörsal 3, Albanovägen 18, Campus Albano, samt online via Zoom. Disputationen sker på engelska.
Podcast
Lieven & Marcelo's Criminology Podcast: Helgi Gunnlaugsson on criminology in Iceland
In this episode, Lieven and Marcelo interview Helgi Gunnlaugsson. Helgi Gunnlaugsson is a professor of Sociology at the University of Iceland, where he teaches sociology of deviance. His research interests are crime perceptions, local crime trends and the criminalization of beer. He is among the most known criminology professors in Iceland and often interviewed in the media.
Kriminologene on Apple Podcasts.
Nye episoder med blant andre Silje A. Bakken og Anette Bringedal Houge.
Vacancy
SSP søger rådgiver
Fuldtidsstilling er ledig, til ansættelse 1 feb., fristen at ansøge er 16 december.
Enhedsleder søges til Kriminalforsorgen på Færøerne
Frist 19. december, stillingen ønskes besat 1. feb.
Göteborgs Universitet
2 doktorandplatser i sociologi.
Örebro Universitet
En tillsvidaretjänst som lektor i kriminologi ute! Tjänsten ger möjlighet till 35% forskning inom något av ämnets forskningsområden/projekt under en tvåårsperiod.
---
3. News from the Nordic countries
Denmark
Indbrudstyvene er tilbage – 900 Nabovenner skal få danskerne til at nabohjælpe
Den mørke tid er højsæson for indbrud, for mørket giver tyvene gode arbejdsbetingelser. Og i år vokser risikoen for indbrud på grund af energikrisen, når lyset dæmpes på veje og stier, og danskerne måske dropper lyskæderne omkring huset. Derfor er det vigtigt at være synlig i nabolaget og holde øje med hinandens hjem, lyder det fra Nabohjælp, der sender 900 ambassadører på gaden for at aktivere nabohjælpere rundt om i hele landet.
Alle voldsudsatte bør have lige ret til krisecenterplads, psykologhjælp og støtte til medfølgende børn
Mænd og LGBT+ personer, der udsættes for partnervold, har ikke samme ret til krisehjælp, som voldsudsatte kvinder har. Alle voldsudsatte bør have lige ret til hjælp, fastslår Institut for Menneskerettigheder i en ny analyse.
Seksuelle overgreb sker oftere på botilbud: Sikkerheden bør skærpes
Beboere på botilbud bliver oftere udsat for seksualforbrydelser end andre, og i mange tilfælde udebliver hjælpen. Det er et dobbeltsvigt af mennesker med handicap mener Institut for Menneskerettigheder.
Børn udsættes fortsat for vold og overgreb i Danmark. Men det er så svært at få øje på dem
Børn fortæller sjældent om de overgreb, de er udsat for. Derfor kan det være meget svært at opdage, hvis et barn har lidt overlast. Vejen frem er dialog. At tale med ofrene er den konstruktive måde at hjælpe dem på. Det skriver forsker Sofie Henze-Pedersen i denne kronik, der har været bragt i Jyllands-Posten.
15 udsatte boligområder er godt på vej i en positiv retning
Der er store forandringer i gang i de 15 boligområder landet over, som efter en politisk aftale i 2018 blev pålagt at omdanne sig fra såkaldte 'hårde ghettoer' til mere blandede by- og boligområder. Boligområderne er især godt på vej, når det gælder den fysiske omdannelse af området. Når det gælder om at styrke og forbedre borgernes hverdag, er der stadig store udfordringer, viser VIVEs evaluering.
Markant flere voldsudsatte kvinder rækker ud efter hjælp hos Lev Uden Volds nationale hotline
Lev Uden Vold oplever en kraftig stigning i antallet af henvendelser til den nationale hotline 1888, som rådgiver om vold i nære relationer. Det er særligt voldsudsatte kvinder, der benytter den døgnåbne hotline. Det er lykkedes at sætte fokus på vold i nære relationer som et problem, man kan få hjælp til at komme ud af, mener direktør i Lev Uden Vold, på baggrund af tallene.
Faroe Island
Universitetet får ny rektor
Tirsdag 13. december, er officielt indsættelse af Martin Zachariasen, nye rektor på Fróðskaparsetri Føroya, Færøernes Universitet. Han afløser Chik Collins, der siden efteråret 2019 har været rektor.
1 år og 8 mdr. for voldtægter
25 årig dømt for voldtægter begået mod to piger, i 2018 og 2019. 1 juni i år, kom ny straffebestemmelse, der ville have hærdet straffen, hvorfor manden blev idømt efter den gamle bestemmelse.
1 år og 7 mdr. for hashsmugling
43 årig dansker, blev idømt 1 år og 7 mdr. for forsøg på smugling af 15,7 kg. hash til Færøerne, med henblik på salg. Det var hærdende betingelser, at manden tidlige var idømt 5 år i 2017 i Kolding og formildende at manden først blev oplyst på vej til Færøerne, at hash var i hans bil.
Idømt 5 mdr. for tre voldssager
19 årig, blev idømt af Østre landsret d. 1 dec. 2 ubetinget fængselsstraf, samt 3 mdr. betinget. Manden er tidligere i år idømt betinget og ubetinget straf.
Finland
Justitieministeriet
Rökning i fängelser begränsas
Regeringen föreslår ett förbud mot rökning inomhus i fängelser. Fångar och häktade ska dock ges möjlighet att röka utomhus. Dessutom ska man stödja rökavvänjning för fångar och häktade.
Statsförvaltningen får anvisning för bekämpning av korruption
En anvisning för att upptäcka, identifiera och bekämpa korruption har beretts för statsförvaltningen. Syftet med de nya anvisningarna är att förbättra kännedomen om korruption som begrepp samt att identifiera riskområden och de olika formerna av korruption vid statens ämbetsverk och inrättningar.
Inrikesministeriet
Förstudie: Det finns ett klart behov av polisens reserv
På grund av förändringarna i den säkerhetspolitiska miljön finns det ett klarare behov av polisens reserv, bedömde en arbetsgrupp i sin förstudie. Med polisens reserv avses en grupp frivilliga som arbetar under polisens ledning och stöder polisen i begränsade uppgifter. Avsikten är att de som hör till reservpersonalen ska stödja polisverksamheten vid överraskande, utdragna störningar som hotar samhället och kräver mycket personal eller i exceptionella situationer som äventyrar den allmänna ordningen och säkerheten, om polisens egna resurser inte räcker till för att hantera situationen
Polisstyrelsen
Narkotikabrott som begås av minderåriga och för första gången ökar
Antalet miljöbrott och naturresursbrott minskade år 2021 jämfört med tidigare år. Däremot ökade antalet brott som äventyrar andras hälsa och säkerhet. Även ringa brott på förseelsenivå, som klassificeras som miljöbrott minskade.
HEUNI (The European Institute for Crime Prevention and Control)
Policy brief : "You hear my concern and help me think of solutions"
This is feedback given by many of the women victims of gender-based violence who receive legal and psychosocial consultation in the EU-funded SARAH project. The results show victims in a highly vulnerable situation with often stressful and even traumatic experiences in their past, but also great resilience and an ability to benefit from the support provided. Among the most crucial messages are the need to work in a flexible, sensitive and victim-centred manner, to ensure the necessary time and peace for the victims to both go through their past experiences if they feel the need for it, and to focus on the present and future, on the resilience of the women and on thinking of ways forward.
HEUNI Day 15.11.2022. Perspectives on the future: migration flows, globalisation, rational and humane criminal policy and beyond.
In case you've missed HEUNIDay or want to relive the event: the stream from the event is now available on YouTube.
Tampere University
Flickors upplevelser av sexuellt våld har ökat
Enligt barnofferundersökningen, som genomfördes våren 2022, har mängden sexuellt våld mot barn och unga börjat öka. Förändringen syns särskilt i flickornas svar. Barnofferundersökningen, som baseras på ett nationellt representativt urval, genomfördes i år för fjärde gången inom ramen för den nationella barnstrategin.
Greenland
Flertallet ønsker at stramme våbenloven op
Et flertal i Inatsisartut vil stemme for en ændring af Grønlands våbenlov, der blev vedtaget tilbage i 1992. Aldersgrænsen for at bære våben er 12 år, og det er blandt andet indskrænkning af våben og lov om opbevaring af skydevåben, som politikerne vil diskutere.
Iceland
Victims of sexual violence guaranteed psychological assistance
The Minister of Justice and the Minister of Health in Iceland have agreed to provide victims of sexual violence appropriate support from a psychologist after a report has been made by them to the police.
Awarded for outstanding bachelor's and master's thesis
Two newly graduated students from the University of Iceland, Ragnhildur Inga Magnúsdóttir and Arnbjörg Jónsdóttir, received recognition for their excellent final theses in undergraduate and master's programs on the annual Sociology Day. Their final projects depict the media's coverage of sexual offenses and the social relations of refugees in Iceland.
Cyberbullying more common among 6th graders than 10th graders
Results from a recently published report from the Icelandic Youth Research (ÍÆ) show that cyberbullying is more common among students in the 6th grade than in the 10th grade, but almost two out of ten participants in the younger age group (17%) have experienced cyberbullying in the past two months, compared to just over 12% in the 10th grade.
The position of police officers in rural areas
Guðmundur Ævar Oddsson discusses the results from research conducted by himself along with Andy Hill and Þóroddur Bjarnason on the position of police officers in rural areas.
Norway
Stortingsmelding om nasjonal kontroll og digital motstandskraft – «Så åpent som mulig, så sikkert som nødvendig»
Regjeringen redegjør for «behovet for en helhetlig og langsiktig tilnærming til nasjonal sikkerhet i hele landet».
På høring: Forslag til forordning for å forebygge og bekjempe seksuelle overgrep mot barn
Justis- og beredskapsdepartementet sender på høring Europakommisjonens forslag til forordning om regler for forebygging og bekjempelse av seksuelle overgrep mot barn. Forslaget har som formål å sikre bedre oppsporing, etterforskning og rettsforfølgelse av lovovertredelser vedrørende internettrelaterte overgrep mot barn.
På høring: Endringer i politiloven og tvangsfullbyrdelsesloven mv. (kjønnsnøytrale betegnelser m.m.)
Justis- og beredskapsdepartementet sender på høring et forslag om endringer i politiloven og tvangsfullbyrdelsesloven m.m. Bakgrunnen for omleggingen er Stortingets anmodningsvedtak fra 2019 om bruk av kjønnsnøytrale titler i staten.
På høring: Endring i vaktvirksomhetsloven og vaktvirksomhetsforskriften – forholdet til securityforskriften
Justis- og beredskapsdepartementet sender forslag til endringer i vaktvirksomhetsloven og vaktvirksomhetsforskriften på høring. Forslaget fremmes som en følge av en fornyet vurdering av forholdet mellom vaktvirksomhetslovens § 2 og forskrift 1. mars 2011 nr. 214 om forebyggelse av anslag mot sikkerheten i luftfarten mv. (securityforskriften).
Forsterket innsats mot sammensatte trusler
Regjeringen forsterker samarbeidet mellom PST, det øvrige politiet, Etterretningstjenesten og Nasjonal sikkerhetsmyndighet i Nasjonalt etterretnings- og sikkerhetssenter (NESS) for å styrke evnen til å håndtere sammensatte trusler. Regjeringen foreslår i tillegg, i en pressemelding, å gi PST flere hjemler for å avdekke ekstremisme, etterretning og terrorplanlegging.
Prøveordning med kvittering ved personkontroller
Fra og med den 5. desember har Oslo politidistrikt en prøveordning med kvittering til personer som stoppes og kontrolleres av politiet. Ordningen har som hensikt å sikre at politiets møte med publikum blir best mulig. Mer informasjon om kvitteringsordningen finnes her.
Sweden
Sverige vinnare av ECPA 2022
Årets vinnare av den europeiska tävlingen ECPA är Sveriges bidrag Riskreducerande insatser, RRI, som syftar till att minska gärningspersonens motivation till hot och våld genom offensiva samtal, och därmed också minska upprepad utsatthet för brott.
Nytt forskningsprojekt för kriminologiska institutionen
Inom ramen för Vetenskapsrådets utlysning om forskning om brottslighet har forskare vid kriminologiska institutionen tilldelats medel för projektet "Social förändring och brott. En multikohortstudie om brottslighet över livsförloppet".
---
4. Publications
Books and anthologies
Engbo, H. J. (2022). Straffuldbyrdelsesret – Fængsel og forvaring. Djøg Forlag, 1. udgave.
Feldtmann, B., Olesen, A., Lentz, L. W. & Jørgensen, K (2022). Punitive Turn, Danish Style: Den strafferetlige lovgivningsproces i Danmark.
Jahnsen, S. Ø. & Skilbrei, M-L. (2022)."Red Lights for Prostitution. Policing the Purchase of Sex in Norway"in: Darley, M. (ed.) Trafficking and Sex Work, Routledge.
Jerne, C. (2022). Activating Limit as Method: An Affective Experiment in Ethnographic Criminology. In: Timm Knudsen, B., Krogh, M., Stage, C. (eds) Methodologies of Affective Experimentation. Palgrave Macmillan, Cham.
Nielsen, S. P. P., Olesen, A., & Hammerslev, O. (2022). Retshjælp, den komplekse førretlige fase og retlig bevidsthed. I O. Hammerslev, & M. R. Madsen (red.), Retssociologi: Klassiske og moderne perspektiver (2. udg., s. 777). Hans Reitzels Forlag.
Olesen, A. (2022). Kriminalitet og straf. I O. Hammerslev, & M. R. Madsen (red.). Retssociologi: Klassiske og moderne perspektiver. 2. udgave, Hans Reitzels Forlag.
Sausdal, D. B. (2022). A cult (ure) of intelligence-led policing: On the international campaigning and convictions of Danish policing. In Nordic Criminal Justice in a Global Context (pp. 111-127). Abingdon, Oxon: Routledge. Available here
Research articles
Airaksinen, J., Aaltonen, M., Tarkiainen, L., Martikainen, P. & Latvala, A. (2022). Associations Between Cohabitation, Marriage, and Suspected Crime: a Longitudinal Within-Individual Study. Journal of Developmental and Life-course Criminology. https://doi.org/10.1007/s40865-022-00219-6
Cinthio, H., Staaf, Annika., & Ouis, P. (2022). "That's how we were raised": Perpetrator perspectives in relation to legislative changes targeting honour related violence in Sweden. Nordic Journal on Law and Society, E-ISSN 2002-7788, Vol. 5, nr 01. Available here.
Gundhus, H. O. I., Talberg, O. N. & Wathne, C. T. (2022). False Reporting in the Norwegian Police: Analyzing Counter-productive Elements in Performance Management Systems, Criminal Justice Ethics, 41:3, 191-214, DOI: 10.1080/0731129X.2022.2146321
L'Hoiry, X., Moretti, A. & Antonopoulos, G. A. (2022). Policing Sex Trafficking in the 'Virtual Red-Light District': A Research Note. Social Sciences, 11(8), 319.
Malik, H.M . & Lepinkäinen, N. (2022) Between algorithmic and analogue harms: the case of automation in Finnish Immigration Services. Justice, Power and Resistance. https://doi.org/10.1332/DVDO6497
Malin, T. & Tanskanen, M. (2022). Regional variation in sentences for child sexual abuse: An empirical study with Finnish court data. International Journal of Law, Crime and Justice. https://doi.org/10.1016/j.ijlcj.2022.100565
Sausdal, D. (2022). Police Prejudice or Logics?: Analyzing the "Bornholm Murder Case". Conflict and Society, 8(1),1-19. Available here
Ugelvik, T., Boyle, R. E., Jewkes, Y. & Nyvoll, P. S. (2022). Disrupting 'healthy prisons': Exploring the conceptual and experiential overlap between illness and imprisonment, The Howards Journal of Crime and Justice, DOI: 10.1111/hojo.12498
---
5. Reports
Ny hvidvaskrapport: Danmark har lav risiko for hvidvask
Hvidvasksekretariatet modtog i tredje kvartal flere underretninger end i andet kvartal. Alligevel er risikoen for hvidvask i Danmark lav, viser en rapport fra Basel Institute for Governance. Danmark har en relativt lav risiko for hvidvask. Det viser den årlige rapport "AML-Index 2022: 11th Public Edition Ranking money laundering and terrorist risk around the world", som Basel Institute for Governance udgav i oktober. Danmark ligger nummer 118 ud af 128 lande på risikolisten, mens Den Demokratiske Republik Congo og Haiti topper som de lande, der har størst risiko for hvidvask.
Ny temarapport fra Hvidvasksekretariatet: høj risiko for, at kriminelle misbruger handelsstrukturer i Danmark til såkaldt handelsbaseret hvidvask.
Danmark er en lille og åben økonomi med stor international samhandel. Derfor vurderer Hvidvasksekretariatet i en ny temarapport om handelsbaseret hvidvask, at der er høj risiko for, at kriminelle aktører misbruger de danske handelssystemer til at hvidvaske penge. Ifølge Financial Action Task Force on Money Laundering bliver en stor del af udbyttet fra kriminelle aktiviteter på globalt plan nemlig hvidvasket ved, at kriminelle aktører flytter værdier rundt gennem handel med varer og services – såkaldt handelsbaseret hvidvask.
Danmarks Statistik: Kriminalitet 2021
Publikationen rummer detaljerede oplysninger om alle dele af kriminalstatistikken for 2021 – fra anmeldelser til strafferetlige afgørelser. Det overordnede antal anmeldelser for straffelovsovertrædelser er faldet med ca. 11. pct. Hertil viser rapporten bl.a., at der er et fald i anmeldelser om røveri og dokumentfalsk. Rapporten viser dog en stigning i anmeldte seksualforbrudelser.
Qamani projekt: Unges anbefaldinger til forebyggelse af selvmord
Forekomsten af selvmord i Grønland er blandt verdens højeste, hvor en stor del berører de unge direkte. Børnerettighedsinstitutionen MIO har, i samarbejde med unge i Grønland, udarbejdet en rapport, og viderebragt deres budskaber til, hvordan der kan skabes positive forandringer.
Reports of rape to the Icelandic police increased by 26%
A total of 490 cases of sexual offenses were reported to the Icelandic police in the first nine months of 2022, which is about a 2% decrease from 2021. Reported rape cases increased by 26% in the same period.
Reports of domestic violence between parents and children are increasing
1,787 reports of domestic violence were registered by the Icelandic police in the first nine months of 2022, which is about a 12% increase form 2021. Around 64% of the reports concerned intimate partner violence. Reported family violence against children increased between the two years.
Folkets Husbys trygghetsundersökning 2022
Denna trygghetsundersökning understryker vikten av att undersöka de indirekta konsekvenserna av skjutningar och andra allvarliga våldsdåd. Rapporten bygger på empiri genererad i Järva i form av tre fokusgruppsintervjuer, samt en enkät genomförd under juni 2022.
BRÅ Rapport: Målsägare vid brottsanmälan 2014–2021
Övergripande statistik för utvalda brottstyper riktade mot person.
BRÅ Rapport: Hatbrott i digitala miljöer.
Polisanmälda hatbrott 2020 med digital brottsplats.
Uppdaterad sammanställning av polisforskningen i Sverige 2021.
Varje år gör Brå en sammanställning över forskning om svensk polisverksamhet. Nu är Polisbibliotekets databas Justitia uppdaterad med svensk polisforskning från 2021.
Vägar till ett tryggare samhälle – Kraftsamling för barn och unga (SOU 2022:67).
Kommitténs uppdrag är att ta fram underlag till utform­ningen av en kunskaps­baserad och brett förank­rad kriminal­politik som ska bidra till att uppfylla de kriminal­politiska målen att minska brotts­ligheten och öka människors trygghet.
---
6. Statistics
Danmarks Statistik: 75 pct. færre indbrud i juledagene end for ti år siden
Der er sket et markant fald i antallet af anmeldte indbrud i beboelser over juledagene fra 2011 til sidste år. I 2021 blev der begået 473 indbrud i juledagene mod 1.873 i 2011, hvilket svarer til et fald på 75 pct. Der sker stadig flest indbrud på selve juleaften, hvor ca. hvert fjerde indbrud i juledagene begås.
Anmeldte seksuallovbrudd i endring?
Hvilke seksuallovbrudd kommer inn i det norske rettssystemet, og hvorfor varierer antallet så mye i årene etter 2014?