NSfK welcomes new Danish Contact Secretary
3.7.2019
Tobias Kammersgaard is new Danish Contact Secretary.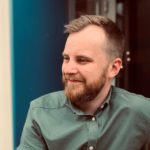 Tobias holds a MSc in Criminology from Aalborg University and is currently a PhD Student at the Centre for Alcohol and Drug Research, Aarhus University.
As NSfKs Contact Secretary Tobias says he is especially looking forward to the enhanced possibility the position gives him to to follow what is on the Nordic criminology and crime policy agenda.
More on Tobias and his research following this link.