Obituary Kauko Aromaa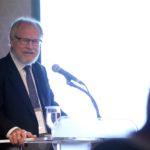 Criminologist Kauko Aromaa died in January 2019 at the age of 75, in his hometown of Helsinki. He was a great researcher and a much-appreciated fellow human being who left behind an immense void on the Nordic criminological scene, both in Finland and in the international arena.
For us, as undoubtedly is the case for many others, our first meeting with Kauko is etched into our memories. Despite his down-to-earth and unstrained manner, he was an energetic and sophisticated intellectual of the best kind. Kauko allowed himself a free-growing beard and the incomprehensible order in his office. No one who ever found him sat behind the enormous piles of manuscripts and literature on his desk will ever forget it. He was naturally at the centre of intellectual and social interaction; So it was at the seminar, and so it was in the evening, taking into consideration his great singing abilities. His energy and ability carried him, and those around him, forward.
Kauko was a man of honour in helping young criminologists starting out in their careers. Not only was he able to find research topics and financing with the help of his extremely wide networks, but he was always ready to share his scientific knowledge and innovative thinking when designing research plans. He was always open to an exchange of ideas and to vivid discussion, not simply trying to push through his own perspectives. His field of expertise was amazingly broad. Many Finnish criminologists are extremely thankful for all Kauko did in helping them at the beginning of their careers.
Kauko had clear ideas of what effective and humane criminal policy could look like. He was active in Finnish political movements in the 1970s, critical of the over-extensive use of prisons and closed psychiatric care. These movements aimed to improve the situation of homeless alcoholics, the mentally ill and of prisoners. At that time, Finland was lagging far behind the other Nordic countries in terms of the pragmatic handling of these social problems.
Even an overall summary of Kauko's career and contribution to the field of criminology would require extensive writing-space. His output spans many hundreds of books, reports, articles and other published texts. He retired as the director of the UN affiliated European Institute of Crime Prevention and Control (HEUNI), having served before that as the research director of the Finnish National Research Institute of Legal Policy. After his retirement, he worked as a professor at the University of Manchester. He was for a time chair of the European Society of Criminology, and in addition hired for his expertise in numerous international and national contexts. He was also frequently interviewed by the Finnish media whenever an expert was needed on crime and criminal policy. Kauko was ready to step forward and to lead and assist. He was creative, and contributed with decisive efforts in the research areas where he was active.
Kauko's great abilities also served Nordic criminology, for many years and in many ways. Not long after receiving his master´s degree from the University of Helsinki, he began to have articles published in the Nordic Journal of Criminal Science (NTfK). From 1970 onwards, one can see how his research interests developed over time, which started with an innovative qualitative interview study on theft and thieves, and soon came to include various studies on the levels and development of crime. From initially using register data, early on Kauko saw and utilised the possibilities of studying crime and crime development using the survey method. With this method, over time, he also conducted analyses of different aspects of victimisation. Kauko was active in creating the methodology of both victim surveys (both for individuals and businesses) and of self-report delinquency studies, both nationally and internationally. With the additional benefit from the Nordic dimension that several of his studies were in fact comparative studies with data from more than one Nordic country.
Moreover, Kauko was a pioneer even when it came to involving the Baltic countries and Russia in criminological research, especially after the collapse of the Soviet Union. This body of research involved the security environment of foreign companies, and victimisation of local citizens in times of change.
During the latter part of his career, NTfK had the opportunity to publish many of Kauko's articles under the broader theme of organised crime, covering everything from corporate exposure to crime to human trafficking for various purposes. But everyone who tries to briefly summarise Kauko's research efforts should be on their guard, because in fact they covered vast expanses and generated new and useful knowledge even outside his slightly more dominant research areas.
A major step forward in Nordic criminological collaboration was the creation of NSfK's Nordic research journal in English, which is now called the Nordic Journal of Criminology. At the end of the last century, it was anything but surprising when Kauko was selected to become the journal´s first editor-in-chief. By dint of his steady intellectual touch, ability to collaborate, and professional management, the journal acquired the successful shape and start which has since carried it forward into our time.
Kauko's Nordic contribution not least revolved around his deep and long-standing commitment to NSfK. He was appointed by the Finnish Ministry of Justice as a Council Member for nearly 20 years, from 1988 to 2006. When the secretariat was located in Finland from 2001 to 2003, he was the President of the Council. In the Nordic arena, Kauko was given an outlet for his broad and deep knowledge, with a profound historical and artistic perspective. With his great cultivation, and we would say brilliant mind, he always had the ability to help others to find a way forward. Kauko's contribution to NSfK, and to Nordic criminology in general, can hardly be overestimated. For that, we are many who have reason to be grateful. We contemplate this when we remember and mourn our colleague.
Aarne Kinnunen, Senior Ministerial Adviser, Department of Criminal Policy and Criminal Justice, Finnish Ministry of Justice
Erik Grevholm, Senior Research Advisor, The Swedish National Council for Crime Prevention (Brå)