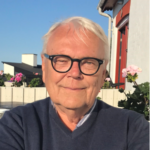 Nordic criminal law and criminology lost a significant personality when Per Ole Träskman passed away on 22 July after a brief illness. Per Ole died at the age of 75.
Per Ole obtained his doctoral degree in law already at the age of 33 and became professor of criminal and procedural law at the University of Helsinki at the age of 36. In 1995, after a short employment at the Copenhagen Business School, Per Ole became professor of criminal law at Lund University in Sweden. Here he was dean of the Faculty of Law from 2000-2009. In 2016, he formally retired, giving him time to add another large number of academic articles to his long list of publications.
Per Ole enjoyed great professional recognition both in and outside of Scandinavia. He was honorary doctor at Turku University in Finland and at Ho Chi Minh University in Vietnam. He was also a member of the Accreditation Board for the programmes in law in Denmark for a period of time, and over the years he has been a member of numerous assessment committees at all academic levels in Denmark, Sweden, Norway and Finland.
Per Ole has written and given lectures on a wide range of criminal and procedural issues. Irrespective of how many are mentioned, some will be unnoticed, but among the topics that have had a strong presence in the Nordic academic environments are a number of issues in criminal law, international and EU criminal law, criminal environmental law, drugs, criminal regulation of sexual services and sexual offenses as well as the prosecutor's role and duties.
Per Ole was born and raised in the countryside and the love of nature appeared in part of his research. For example, in the preface to his book: Miljöbrott och kontroll av miljöbrottslighet from 1992, he wrote "It's easy to get both upset and nostalgic when writing a book on environment. During the research work, I often noticed that I have of things that have disappeared from my own life. If mentioning something specific in this regard, it is a bird, whose nest I often sought as a child, the nightjar (Caprimulgus europæus). I dedicate this book to this bird, which in popular belief so often and so unfairly was accused of theft of things meant only for human beings, ie milk from domestic animals". In 2010, he published the book Miljöstraffrätten. Miljökontroll, miljöbrott och brottspåföljder, and in the preface he addresses his grandchildren directly and writes: "Maybe, in its own way, the book can at least to some extent help you to live in a good, living (or at least surviving) environment. Everybody in the world should be granted this possibility."
As an academic debater – in writing and in speech – Per Ole possessed a rare strength. Having listened carefully for a long time, without raising his voice, he could adduce the arguments that could not be contradicted. No matter how complicated an academic subject, Per Ole was always able to substantiate his own views with historical and current socially relevant issues.
Per Ole had his own style. He stuck to his views without being condescending or brutal in his line of arguments. On the other hand, he mastered a linguistic elegance, which may be described as underplayed irony, such as for example when he in 2013 referred to the Swedish environmental criminal law as a "nasty hawk, but with no beak".
Throughout his scientific work, Per Ole was strongly committed to the Nordic academic environment. From 1970 to 1973, he was leader of the Secretariat for the Scandinavian Research Council for Criminology. This was when the Council had its address in Helsinki, and Inkeri Anttila chaired it. Later he held the position as the Finnish editor of the journal Nordisk Tidsskrift for Kriminalvidenskab (NTfK) for almost 20 years from 1979 to 1996. Until 2018, there only exists a few volumes of NTfK, which do not include one of Per Ole's insightful articles and inspiring book reviews.
In meetings with young researchers, eg if Per Ole participated in mid-term evaluations of PhD projects, his enormous academic and human surplus was clearly visible. Per Ole faced new ideas with curiosity and an open mind. He made his experience and knowledge available, and he loyally supported the young person's efforts to shape his/her own project.
In 1996, Per Ole initiated an annual workshop on Nordic criminal law. The concept was simple. The Nordic countries were to host the event in turn, and all PhD students in criminal law and criminology were invited, along with their supervisors. One by one, the PhD students had the opportunity to present their ongoing projects and get inspired by subsequent discussions with both equal and more experienced colleagues. These events still take place on an annual basis and play a major role for the young PhDs.
Per Ole's commitment to supporting young researchers went beyond the Nordic countries. During his time as Dean of the Faculty of Law at Lund University, Per Ole put much effort into establishing a collaboration agreement with the Ho Chi Minh University in Vietnam. The agreement aimed at establishing and qualifying research training in Vietnam, and Per Ole saw the agreement through, long after his employment as dean had expired.
Per Ole Träskman was highly respected and was often invited as an expert or lecturer, but he never sought the limelight and fame. He gladly approached those who wanted his experience and knowledge, and he was generous without expecting anything in return, and he had no need for self-assertion. His open-mindedness and knowledge, his well-rounded personality and human warmth made him a colleague and a friend who will be greatly missed.
Ragnheidur Bragadottir, Professor, Islands Universitet
Anette Storgaard, Professor, Aarhus Universitet