NSfK has moved to Sweden and Stockholm University and you are the new chair of the organization.
Congratulations – how does it feel?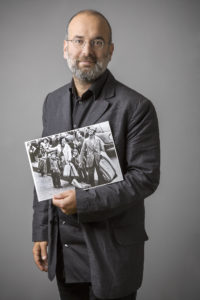 It feels great, thank you! It is also with great satisfaction we note that Sweden is back contributing to this important intra-Nordic exchange of knowledge and that Sweden also – once again with the support of the Criminological Department at Stockholm University – is the host and in charge of the management of the organization. We had a few years, around the time when the NSfK celebrated it´s 50 years anniversary in 2012, when Sweden unfortunately did not participate in this Nordic cooperation. Thanks to strong support from research colleagues at the other major universities in Sweden, we pressed for a change of this decision.
Now we are looking forward to three exciting years where we will continue the excellent administration founded during the Finnish Chairmanship in 2016-2018. Hopefully we will also be successful in taking steps to further deepen and develop the cooperation before we hand over the chair to Norway 2022.
What are your plans and what is closest in time?
Together with the Leader of the secretariat, Carina Johansson, I have started sketching on quite a few plans. Some are about how we better can communicate and make known all the exciting and important research and knowledge concerning crime and preventive measures existing in the Nordic member countries. These ideas we are looking forward to be discussing in the Council!
The easiest way to answer this question I think is telling what lies ahead of us in the short term. As usual in the NSfK calendar the first half year is very intense. In March, we have our annual meeting, this time in Iceland, when all council members gather to plan and discuss the future. A central matter at this meeting is deciding on which new research projects will receive the NSfK´s Research grants. I can reveal as much that the competition is tough and we have several very interesting joint-Nordic projects to decide on. Last year, for example, we had the opportunity to make a larger contribution to a project on lethal violence in the Nordic countries and the year before about drug markets in cyberspace. I look forward to the discussion with my Nordic colleagues about which exciting project we will be funding this year.
Furthermore, I hope that we will be able to continue providing funding and support to several working groups and contact seminars where researchers and practitioners from the different Nordic countries can meet to discuss issues of common interest.
Beginning of May there is NSfK´s annual big research seminar – this year actually our 61st. This time it is organized by our Danish colleagues and has the highly current theme "Crime, crime control and criminology in the digital era". As a researcher, I participate in many different types of conferences and I have to say that the NSfK Research Seminars tend to be both of high academic standard as well as very pleasant. The social gatherings at these conferences often lead to future in-depth collaborations.
A fun novelty at this seminar is that, based on the idea from our new editor Anita Heber, we will for the first time give an award for the best research article published during the year in our English-language magazine Nordic Journal of Criminology (NJC).
At the end of the Swedish Chairmanship period, what would you like NSfK to have achieved?
Oh, that is a difficult question, but I hope we will hand over an administration at at least the same high level as we received it from Finland. We have indeed jump-started the Swedish Chairmanship by renaming our magazine from the rather cumbersome JSSCCP to the more easily communicated NJC. One expectation with this name change is that more people will find the exciting studies published in our journal. Most of the articles are already freely available and hopefully this trend will continue so that all our articles in the future will be Open Access. In this same spirit, I also hope that we have developed ways and forms to reach out and communicate all the interesting measures taken in our countries' crime policy and crime research. In the public debate in all NSfK´s member countries the question of crime and punishment has become central within the realm of many interesting orientations. This makes NSfK an even more important player when it comes to communicating and sharing data for a knowledge-based and humanistic criminal policy. Nordic criminology has a very high reputation among our non-Nordic colleagues. I hope and believe that NSfK will continue to be a natural platform for exchange of ideas and knowledge as well as for developing criticisms on matters related to how we best achieve reduced crime rates and increased safety.
Link to personal page of Professor Felipe Estrada, Department of Criminology, Stockholm University.