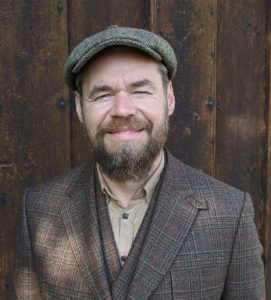 Guðmundur Ævar Oddsson, Associate Professor at School of Humanities and Social Sciences, University of Akureyri, Iceland – you were awarded NSfK Travel Grant 2019 to participate in the conference
Crime, Punishment, Social Marginalization and reintegration in Small Societies" at Ilisimatusarfik/University of Greenland, Nuuk, Greenland.
Could you please tell us what was your presentation at the conference about?
My presentation at the conference was on the preliminary results of a study on the challenges and practices of rural police officers in Iceland, that I am working on with my colleague at the University of Akureyri, Andrew Paul Hill.
Rural police officers confront unique challenges, including patrolling vast areas, isolation, long, and role conflicts. Little research, however, exists on these dynamics. Andy and I want to help address this gap in the literature by documenting the primary rural policing challenges and practices in Iceland—one of the world's smallest, most homogeneous and egalitarian countries, where police officers do not patrol with guns on their person.
Our study involved semi-structured interviews with twenty-three officers who work or have worked outside of Iceland's capital area. Data collection is now complete and we are in the process of analysing the data. Our preliminary findings show that that the main challenges facing rural police officers are understaffing, overwork, a very broad range of tasks with little to no backup, and a blurring of work and home.
To meet these challenges, officers must develop a broad skillset, innovate, and mobilize the community. To make all this work, rural police officers must develop superior communication skills centred on extensive dialogue, de-escalation, negotiation, and minimal use of force in order to build trust and consensus. Officers are helped in this regard by Iceland's relatively egalitarian and tightly-knit society, which fosters trust in the police, public cooperation, and informal social control.
What do you find was the most interesting outcome from the conference?
There were so many interesting things about this conference at the University of Greenland/ Ilisimatusarfik. The most interesting outcome of the conference, for my personally, was to listen to and interact with a wonderful group of scholars and learn about crime and social control in small societies.
It was particularly interesting to hear about and read the report from the working group studying the Faroe Islands, Greenland, Iceland and the Åland Islands (link to working group´s report here). These four societies are greatly overlooked in the criminological literature so it was extremely beneficial for me and others to get such rare and valuable insight.
It was also great and very informative to listen to the presentations by Francis Pakes from the University of Portsmouth and John Scott from Queensland University of Technology.
All in all, this was my first trip to Greenland and I loved every minute of it!
How would you say your participation at the conference contributes to your future work?
My participation in this conference will definitely inform my future work, particularly my research on police officers in Iceland.
Moreover, my colleagues and I have talked about doing cross-national comparative work on rural policing in the future and this conference definitely helped lay the groundwork for that.
Last, but not least, the conference allowed me to network with scholars from around the world. Thus, I am very grateful to receive support from NSfK to attend the conference.