By Maja Vestad, Rose E. Boyle and Marina Hiller Foshaugen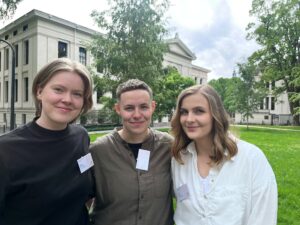 There is great power inherent in consumers' online reviews of establishments, activities and facilities: positive reviews inspire further custom and can affect how commercial actors are ranked by algorithms and search engines, whereas poor reviews keep would-be visitors away. Online reviewing on Google is largely an egalitarian practice, where consumers and non-consumers alike with an internet connection are free to express their views. Google encourages businesses to utilise their review system, synchronised with Google Maps. However, not all locations on Maps are commercial: prisons, hospitals and detention centres, among other private or governmental facilities, are also subject to Google's review system. What then, do we make of online reviews of prisons?
In this project, we collected all reviews and ratings of prisons in Norway, posted on Google Maps between 2017 and 2021. These were available to read online until 2022, when they disappeared from the web. In this blog post, we draw on a thematic analysis of this unique dataset to show how they play on common narratives about prison life, as well as highlighting the underlying gravity of some of these communications.
The rise in popularity of true crime and 'dark tourism' means that prisons and their inhabitants remain desirable topics in online content. The popularity of prison 'escape rooms', prison-themed bars and former prison institutions converted into hotels means that prison-like establishments are also commonplace in Google Reviews. Established, sardonic narratives about prison life in popular culture spill over into reviews of genuine, operating prisons. Reviewing a prison online therefore has multiple potential meanings: such reviews can start conversations and entertain, but also potentially cause harm by leaning on well-worn, detrimental stereotypes, as in this citation we uncovered:
Good room service with strict arrangements, but the soap was slippery, and gave me new experiences 😉 [3 stars]
Others still leave reviews that appear to be more of a true reflection of genuine prisoner experiences, informing about services, staff skills, and how they were met inside the prison. These reviewers seem to be reaching out to others who may need this information:
I was in the crisis of my life when I got there, but they helped me, even though I'd broken the law, committed a crime. [5 stars]
Reviewing is a way of communicating individual, personal experience without guaranteed feedback. Sincere reviews were overall overshadowed by mocking reviews: some of which satirised the Nordic exceptionalism narrative while simultaneously playing on more typical review subjects, making the "hotel-like" Norwegian prisons the subject of humour. Many reviews are written in other languages, which tells us that also reviewers from other countries have taken the time to rate and comment on Norwegian prisons. Our data operates between the sincere and the sarcastic: existing discourses around prisons dominate, but personal, sporadic and uncontrolled interactions shine through. The prison is at a crossroads between old and new narratives, convoluted by digital space – a powerful and thought provoking predicament.
Maja Vestad, Rose E. Boyle and Marina Hiller Foshaugen are PhD fellows at the Department of Criminology and Sociology of Law, University of Oslo. This project draws together their shared interests in the intersections between analogue and digital spaces.