by Mareile Kaufman and Maja Vestad
Maja enters a burnt room. There is a body on the floor and blood patterns on the wall. Evidence everywhere: furniture, ceiling – ashes cover the crime scene. She sits down to examine the body and clicks a button to get closer.
Conference participants with bulky goggles walk the venue, all of them looking at the same scene. Fire fighters analyze ashes. Technicians examine lithium batteries. Forensic experts inspect bodies. But the body is blue. The program is still under development. Maja steps out of the marked field, takes the VR glasses off and finds herself in the eminent conference hall.
Scientific imaginaries are as present at forensic exhibitions today as they were in the 19th century. Just like Alphonse Berthillon's innovative "gods eye view" set out to capture the measurements of bodies via photography and metric devices in the 19th century, today's forensic technologies seek to augment biometrics into the realm of algorithmic visualization. Around the turn of the century photo cameras created the crime scene. Today, visual technology advanced to the point at which we can enter a virtual crime scene. However, neither of these technologies replace reality, professionals or exist without human decision-making. Cameras were built by engineers and used by officers to document forensic scenes from a specific perspective. In 2022, the skills of software developers meet those of special police units who deploy forensic solutions. Here, too, decisions about perspective and virtual reality modelling have a vast influence on the case.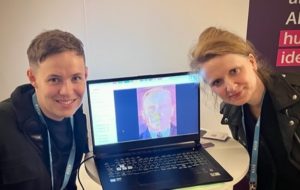 At the NSFK Research Seminar, Maja and Mareile spoke about exactly these dynamics: humans are always present in technologies. Together, they create forensic matters. This is evident in both, 19th and 21st century forensic science. In fact, historical and contemporary forensic developments are strikingly similar on several levels. The promise to capture and freeze the crime scene drives technology advancements. Higher data volumes change investigation practices. Crime scenes are structured according to new metric techniques. Such novel practices are highly professionalized, which makes it harder for non-experts to access processes. Standard operating procedures need to be developed. Exhibitions are a forum for different professionals to display, meet and discuss techniques. Ethics, advantages and limitations are always on the agenda.
All of these are perennial issues and they will continue to exist. So will the key challenges:
How can we handle enormous data quantities? Will police districts need supercomputers?
What expertise is needed to evaluate results? Where do professions fail to understand each other?
What does it mean that knowledge production is in part outsourced to technology providers?
Who will maintain technologies to keep them updated? What is on the horizon?
What happens when we are overconfident in what technologies can deliver?
Will all these technologies actually help avoiding the disturbance of the crime scene? How do they influence our view on the crime scene?
How can abuse and function creep of technologies be avoided?
How can we take account of the human in the loop and the necessary biases this creates?
And, most importantly, how do technological devices and humans co-construct evidence? This is one of the issues at the heart of digital criminology, because it impacts justice, regulation and society at large. These questions remain topical for the years to come, since "any crime has a digital component", as one of the plenary speakers at the EAFS conference put it.