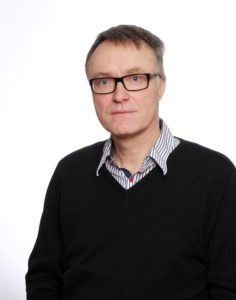 Helgi Gunnlaugsson is Professor of Sociology at the University of Iceland. He received his BA in sociology from the University of Iceland and his MA and PhD from the University of Missouri. Gunnlaugsson´s main research interests include criminology, penal policy and the problem of drugs and alcohol in society.
He was a Council member of NSfK for Iceland during 2001-2015.
The first study in Iceland examining digital crime victimization among the Icelandic public was conducted in 2016. The objective of the study was to examine how many of the respondents had been victims of digital crime. This was measured by asking respondents the following question: "Have you been a victim of any of the following offences online in the past three years?" The options given were slander or defamation of character, threat of violence, identity theft, sexual harassment, blackmail, consumer fraud, or photos being shared online without permission. According to the findings, approximately 13 percent of the respondents admitted to digital victimization in the past three years prior to the survey. Slander and consumer fraud were the most common types of victimization.
In 2018, this same survey was repeated using the same questionnaire as in 2016. The survey was placed online as before in cooperation with the Social Sciences Research Institute to a sample of about two thousand respondents reflecting the Icelandic population aged 18 years and older. Of specific interest in the wake of the MeToo confessions in 2017, was to explore whether these public revelations had any relationship with the sexual victimization experiences reported by women in the 2018 survey.
The 2018 results showed a significant increase of victimizations from the 2016 survey. Approximately 19 percent admitted to digital victimization in 2018, with the increase being most notable regarding sexual harassment of women. A recent article in Nordisk Tidsskrift for Kriminalvidenskab, the authors Gunnlaugsson and Jónasson (2020), discuss a possible MeToo effect as an explanation for more reporting by women of sexual victimization in 2018 compared to 2016. Not necessarily suggesting an actual increase of this type of victimization, nor a direct cause of more incidences reported, but possibly reflecting more social awareness among women with respect to recognizing certain unwanted behavior as sexual harassment than before. Harassing communications previously perceived as nothing more than a nuisance, increasingly being interpreted as sexual harassment in the aftermath of MeToo. Still, a question remains. Has the impact of MeToo a lasting influence or only a short-term effect – if indeed there was one to begin with?
In 2020, the survey was conducted for the third time. Using the same questionnaire and placed online as before. The main results show a similar proportion of the sample admitting to digital crime victimization as in 2018, or about 19 percent. Most reported slander and consumer fraud as before in 2016 and 2018. Majority of victims were in the youngest age group 18-29 old, but difference between males and females was not significant. About ten percent of the women admitted to sexual victimization especially younger women – a similar rate as in 2018. Therefore, more younger women reported sexual victimization in both 2018 and 2020 compared to 2016; the most notable change between the first survey and the latter two. If indeed there was a MeToo effect in 2018, the impact appears to be still in place in 2020.
References:
Gunnlaugsson, H. and Jónasson, J. O. (2020). "Is digital crime victimization increasing in Iceland – may the Mee-too movement influence how victimization is experienced?" Nordisk Tidsskrift for Kriminalvidenskab. 107(1), p. 24-40.