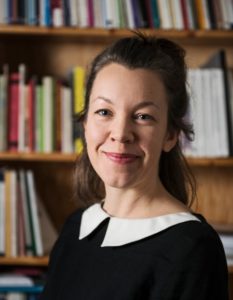 Klara Hermansson, PhD student at the Department of Criminology
at Stockholm University is the author of the award winning article "The role of symbolic politics in exceptional crime policy debate: a study of the 2014 Swedish general election". Klara was awarded the prize for Best Article 2018 published in NSfK's Journal of Scandinavian Studies in Criminology and Crime Prevention (name changed in 2019 to Nordic Journal of Criminology).
Read Klara´s article here.
Congratulations Klara! How does it feel to win this award?
– It's always nice when people read and appreciate what you have written. That's my biggest takeaway from receiving this award.
Can you briefly explain the study and your motivation?
– In this study I analyse the crime policy debate during the electoral campaign preceding the Swedish general election of 2014. This was a general election in which crime policy was not at the centre of the debate – in contrast to the most recent general election. What I want to show in this study is that symbols and symbolic statements fill an important function also in this muted, non-alarmistic debate. In Sweden, the welfare state context affects how crime policy proposals are being legitimized. Concepts like "crime prevention" and "safety" can therefore serve as effective symbols in the Swedish society.
What will you study next?
– I have been pursuing the concept of "safety" ("trygghet" in Swedish), and now I am analysing the role of emotions in the 2018 election debate. At the moment I am writing about how anger, which is a problematic and rather risky feeling to express as a politician, is articulated in Swedish crime policy. My aim is to show how different emotions will generate different discursive effects, and in this I want to distance myself from the division between emotions and reason that characterizes many crime policy analyses.
Note: Klara's article was nominated by several persons from different Nordic countries.
One of the nominations reads:
"The article addresses a very important issue, which is highly relevant to our societies. Even though it explores the symbolic dimension of the Swedish crime policy debate, it is relevant to other Western countries experiencing the same kind of dispute. The article is based on solid research and presents the problems it deals with and its conclusions in a clear and modest way."
Foto: Vilhelm Stokstad/Stockholms Universitet