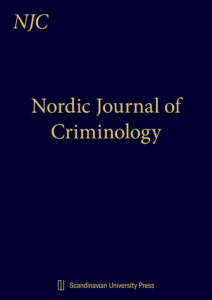 From next year the Nordic Journal of Criminology (NJC) will be published by Scandinavian University Press (Universitetsforlaget)
– Nordic Journal of Criminology is the flagship of NSfK, says Heidi Mork Lomell, NSfK Chair.
The journal is an international, peer-reviewed journal publishing original research articles in the field of criminology and crime prevention. The journal provides a forum for criminological research across a wide range of disciplines and methodologies. Priority is given to research with Nordic relevance, such as studies based on Nordic data. The journal's readership consists of criminologists, legal scientists, sociologists, psychologists, anthropologists, policymakers and others with an interest in crime, control and prevention.
– The journal is crucial for disseminating Nordic criminology both to Nordic and international researchers and policymakers, says Lomell.
Diamond open access from next year
Nordic Journal of Criminology now becomes more easily available than ever before. Previously at Taylor & Francis the journal allowed APC publication. In the future all articles will be available as diamond open access, meaning all journal content is published online with immediate free access.
– We are pleased that the new publisher will provide diamond open access. This will increase both the visibility and the impact of Nordic criminology, says Lomell.
Sébastien Tutenges, the journal's Editor-in-Chief, tells that this is great news.
– The journal features articles that speak not only to the Nordics but to the entire world. For example, a recent article discusses how popular children's books can shape cultural values and attitudes around crime, punishment, and forgiveness. Such pioneering work should be shared quickly and openly to benefit as many as possible, says Tutenges.
The journal will only be available in a digital edition on the publisher's publishing portal Idunn. On the new website, you will find instructions for authors, the journal's new creative commons license and other information about the journal. If you want to be notified by email when articles are published, you can already register via the new websites.
See also: