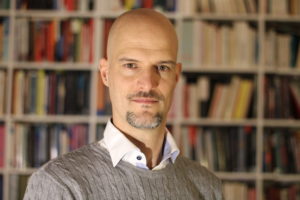 On January 1st, Sébastien Tutenges took over as Editor-in-Chief of the Nordic Journal of Criminology (NJC). Tutenges is based at the Department of Sociology at Lund University and will hold the position for the next three years.
Nordic Journal of Criminology is an international, peer-reviewed journal that publishes research relating to criminology and crime prevention. The journal is financed by the Nordic Research Council for Criminology (NSfK). The NJC publishes a new issue twice a year and features research of relevance to the Nordic countries.
Congratulations! Is there anything you are eager to do as the new Editor-in-Chief?
Thank you! I love to read, and being the editor of NJC allows me to read lots of brand new research from and about the Nordic countries. What a privilege! So what I am most eager to do is to sit down and read, sip coffee, stare out of the window, and read some more. Sometimes this will end in the not so pleasant task of having to reject an article. That's a downside to this job. But then there's the upside of going through an article with potential: sending it out to the right reviewers, discussing the reviewers' reports with the authors, and, essentially, improving good research and making it available to the world.
In your own research you have worked broadly with a variety of social problems, in particular how people experience and make sense of intoxication, violence, and extremism. Will this influence the journal's thematic angle? What can we expect in the upcoming years?
I have my own personal interests but will try not to let these dictate the direction of the journal. The crux is to publish top-quality articles that speak to matters of societal concern. Articles on drugs, violence, and extremism are most welcome. These themes are of continuing concern in the Nordic countries. I also welcome articles on other pressing issues, such as policing, incarceration, and surveillance. NJC is, and should continue to be, an open, trans-disciplinary forum with room for diverse voices, perspectives, and research traditions. Thankfully, the new co-Editor of NJC, Susanne Boethius, comes with a set of interests and skills that are different than mine. She is an expert on survey methods and domestic violence, which I am not. I think we complement each other well. And by the way, she won the NJC Best Article Prize in 2020 together with Malin Åkerström. It's a scoop to have Susanne on the editorial team.
Is there anything special about Nordic criminology, or do criminologists work with the same research questions all over the world? Is there anything special about the Nordics?
Nordic criminology has undergone tremendous change in recent decades. Some twenty years ago, when NJC first saw the day of light, Nordic criminology was smaller in terms of funding and project size. Today, the field is relatively well-funded and feeds into a much wider range of debates and research traditions. In fact, some of the leading figures in a number of criminological research traditions are based right here in the Nordics. So it's difficult to pinpoint exactly what distinguishes Nordic criminology today: perhaps that we are theoretically strong, mindful of socio-cultural structures, and multi-disciplinary in our approach? And yes, there is something special about the Nordics: the welfare system, the challenging weather, and our mutual awareness and interests.
What role do you envision NJC playing in the field of Nordic criminology?
NJC is a meeting point. A place where we detect new trends in crime and crime prevention, discuss the common challenges our countries are facing, and develop collective solutions to our problems. Many sorts of crime travel across borders. Cross-national collaboration is needed to understand what's going on. For example, cultures of sexual violence spread and transform at high speed through online and offline interactions. Organizations that deal in drugs and weapons often have connections in numerous countries. Such complex phenomena cannot be understood from one vantage point alone. NJC facilitates criminological exchanges and opens up for new vantage points.
How could this be further developed?
The journal could benefit from more contributions from outside the Nordic countries. There are many scholars around the world with an interest in the Nordics and with insights we can learn from. These scholars should consider submitting their articles to NJC, and we will also make sure to draw on them in the review process. Moreover, we will continue the important work of promoting articles outside the journal. Former Editor-in-Chief Anita Heber and her team did an excellent job with this, launching the NJC Twitter account, the Nordic Criminology Blog, the NJC Best Article Prize, and much more. We will continue this and also work on encouraging and advising NJC authors who wish to disseminate their findings through the traditional media, such as newspapers. Of course, not all articles are newsworthy, but those that are deserve attention outside the community of expert criminologists too.
The first issue of Nordic Journal of Criminology with Sébastien Tutenges as Editor-in-Chief will be published in early spring 2022.